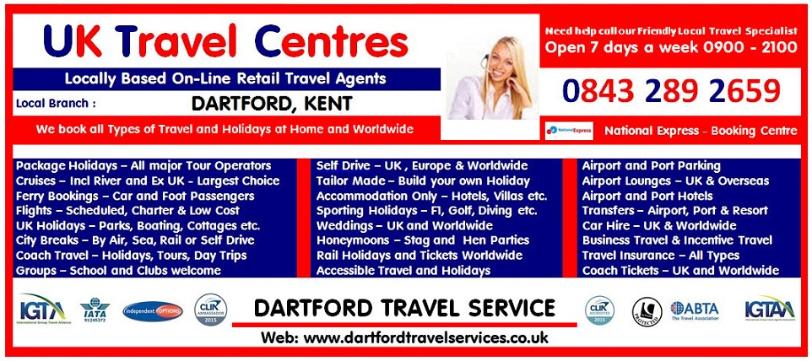 To book online or to check instant availability please click on appropriate button below.
If like many of us you would prefer to speak with us by phone please ring us on 0843 289 2 659 or to talk over the computer without using the phone click on the icon below.
Are you Looking for a Local Travel Agent ? YES
We have homeworkers living in and around the Dartford Area , in fact we have several staff working who have previously worked in shops in Dartford, Crayford, New Ash Green and Orpington and are more than happy to help.
We currently have staff based in Orpington, Cambridge and Henley On Arden as well as homeworkers, and once the level of business increases to cover the overheads of retail premises in Dartford / Crayford area we will look at establishing a local retail premises.
We are full members of ABTA ( Association of British Travel Agents) in both Retail sector and as Tour Operator, a holder of our own CAA ATOL licence so providing financial protection to our customers. In addition we are members of Global Travel Groups Independent Options Consortium to help negtiate better deals for our customers.
Benefits for our customers - without High rent of retail premises we are able to pass more discount to our clients, our staff are able to work a wider range of times to suit working clients, and groups.
We are not owned by an Airline so we can sell any operator / airline / hotel or cruise line without being biased . We are looking for customers for long term business as we rely on repeat and recommendation. So we try to go that extra mile to make sure you don't have too.
We sell all licensed tour operators, coach, rail, cruises, ferries etc as well as providing tailor-made arrangements. We have been trading since 1997, and are part of Airline Ticket Services Ltd.
Ring us for Latest Deals from all Major Tour Operators & Cruise Companies !!!